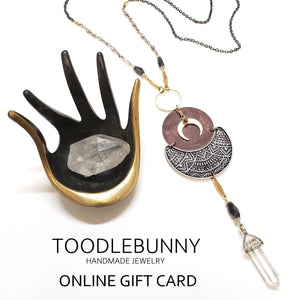 A Gift Card from TOODLEBUNNY Handmade jewelry - sent to your email. For treating yourself or a gift for a friend!
When you purchase an online Gift Card, you will receive a unique redemption code by email. You can forward this redemption code directly to the gift recipient. The email contains instructions for how the recipient can redeem their Gift Card online.
Gift Cards are one per use and cannot be redeemed for cash, are non-refundable, and cards do not expire. The gift card does not apply to shipping charges and can only be redeemed on our website, for online transactions.